Properties in Wadano
Within Walking Distance of Happpo-One Ski Resort
Wadano is the nicest and most convenient area in Hakuba. You can walk to Happo One, one of the most popular ski areas in Japan blessed with great terrain and deep powder snow. Free shuttle bus run to Happo One and other ski areas, so you can enjoy easy access to all major resorts in Hakuba valley. There are plenty of fine restaurants, bars and hot springs nearby for after-ski fun.
SOLD


quiet area surrounded by forest
10-minute walk to Happo ski area

Address: Hokujo, Hakuba-mura, Kitazumi-gun, Nagano
Ownership of land: freehold
Land Area: 999.59 sq. m (302.3 tsubo)
Land category: Forest
Road boundary: southeast and southwest sides of the land border public road
Service Perfection by Wadano's premier ski lodge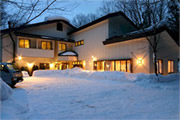 The nearby Morino Lodge can take care of your cottage upon request. This includes not only snow removal and building maintenance, but the services of bed-making, linen, and cutlery replenishment*.
This also allows you to rent out your cottage during your absence.
Hotel staff can offer customer service in English, japanese, and French and have a wealth of knowledge about how to make the most of the beautiful surrounding area.
* Please ask us for service details.
www.morinolodge.com
info@morinolodge.com
Lodge - 0261-85-9098
Real Estate in Hakuba gives you unique investment opportunity
Hakuba Wadano Alpine Resort offers unique investment opportunities for property owners. Having your own cottage in Wadano is also a chance to benefit from real estate rental income in Hakuba. Many vacationers visit Wadano for the winter ski season as well as the summer, when hiking trails draw crowds from far away. For instance, after management fees are deducted, yearly rentals can yield a return of 6% of purchase price (based on year-round occupancy; returns vary). Now, this is the first year of leasing the lot No.5 for accomodation this winter and earn favorable income to produce great investment opportunity so far! Please contact us for more detail and we are welcome to hear your question and details.
Future Growth
Over the past five years, we have seen numerous visitors to Hokkaido and Nagano from Asia, Europe, and North America, and based on this we are confident that the number of foreign customers is increasing. Due to a growing diversity in customer needs, it is clear that simply staying at a hotel is not always satisfying enough for some clients, and this visitor segment is expected to keep growing. That's why Hakuba Wadano Alpine Resort is expected to become well known among skiers, snowboarders, and mountaineers in the near future.
Make a part of Hakuba Wadano Alpine Resort yours today! Please contact us for details.

Yamate Homes Corporation
5-8-4 Shimotakaido, Suginami-ku, Tokyo 168-0073 Japan
Phone: +81-3-3290-2959 / Fax: +81-3-6379-7003