About Us - Shibuya Real Estate Agency
Shibuya Real Estate

Shibuya real estate agent, Yamate Homes has been help finding great places to live in Japan since 1990 located inShibuya. We provide services for customers such as real estate consulting, property investment, buying and renting not only for properties in Tokyo but also resort house. We help to make things easier for every people who are looking for the right place in Tokyo.

Wondering whether commuting would be convenient? Wondering how to start gas and electricity?
Yamate Homes has all answers for such anxiety which first foreign visitors may concern. Our experienced and reliable service will assist your comfortable life in Tokyo.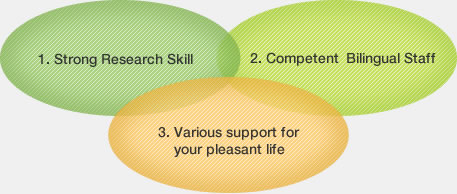 1. Strong Research Skill
We have a courteous consultation with every client and provide suitable property to each request which cannot found through ordinary searches or housing information magazines.
We are able to introduce wide range of properties, from studio type to luxury condominiums, and houses.
Our research skills will penetrate not only popular districts such as Aoyama, Azabu, Shirogane, and Meguro, but also covers entire Tokyo centering on Shibuya.
If this is your first visit to Tokyo, we will propose the property by explaining each feature of area to find suitable property with you.
2. Competent Bilingual Staff
Our bilingual Staffs will provide full assistant for your house hunting to ensure no misunderstanding from long stay living to first living in Japan, and unaccustomed of Japanese speaking.
We closely support and back up for Japanese contract check, arrangement and negotiation with owner and management company and also providing convenient car pick up service at the time of property viewing.
These fine services earned high marks from not only Japanese customers but also our many foreign customers.
3. Various support for your pleasant life
Yamate Homes provide many services for first comfortable life of customers before and after moving in.
Major Service of Yamate Homes
Attendance of moving in, arrangement of utility installation, explanation of facility usage.
Furniture lease consultations, household electric appliance, etc.
Facilitate for deposit return, payment of repair costs, etc.
Representative contact and proceed of contract renewal.
Representative contact and attendance of moving out.
Representative contact to owner or management company and repair requests of facility.
Supply of living information on schools, kindergarten, hospitals.
Consultation of internet, application for cable TV.
Short-stay arrangements (service apartments)
Introduce and arrange for bilingual service insurance company or judicial scrivener.
* We offer flexible services correspond to client requests.
Company Profile
Name

Yamate Homes Corporation

Location

203 Kudan Reheim, 1-9-14 Kudan-kita, Chiyoda-ku, Tokyo 102-0073 Japan

Phone

+81-3-3556-8887

Fax

+81-3-3556-8838

Date of establishment

Jan. 1990

Representative director

Koji Takeda

Business licenses

Tokyo Metropolis Real Estate Busineses License No. (6)58251
Member of All-Japan Real Estate Federation
Access & Map
203 Kudan Reheim, 1-9-14 Kudan-kita, Chiyoda-ku, Tokyo 102-0073 MAP

Phone: +81-3-3556-8887 / Fax: +81-3-3556-8838
Message from President
We have been supporting to search property mainly for the person who comes from overseas and provide our best service from renting in Tokyo to resort house purchasing.
Our fine real estate service for property research and consultation has already getting many favorable reviews from customers we provided.
Please ask us for any question for house hunting in Japan.
We always look forward to hearing from you.