Renting Process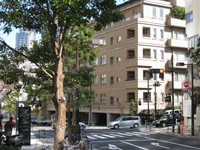 To understand rental process gives you many profits to make every step smooth. Please check for general rental process information of Japan housing to find your suitable property.
We will be glad and welcome to answer any of your questions.
Consider your requirements
The first step for rental process, please think about what your requirements are, including:
Family structure
Size (size and number of rooms)
Area (distance to public transportation or workplace, school bus routes, etc.)
Budget
Contract type (personal lease or company lease)
Other factors (parking, pets, etc.)
Once you determined your preference, please contact us to find your property. You can also search rent property by using "for rent" in our webiste.
Note
Size measure
Room size (floor space) will generally be listed in square meters. "Jo" or "Tsubo" are traditional terms for measuring rooms. "Jo" represents the size of a single tatami mat (about 1.65 square meters). "Tsubo" represents two jo (about 3.31 square meters).
Foor plan
Floor plans are often described as one-room (studio), 1DK, 2LDK, or 3SLDK. D for dining room, K for kitchen, L for living room and S for service room.
Visit the Site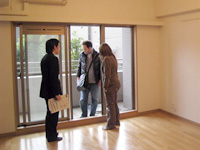 After you found interesting properties, we will arrange to visit candidate properties in your convenient time so that you can see the property in real, as well as checking the location. It helps to know what's right for you. There is no charge for such property visits.
Application
Once you decide the property, you need to submit an application.
Company Lease Contract
If your company rent for you, you will need the following items at time of application:
Application showing your company data.
Company profile
Note: We will communicate directly with the HR staff of organization to confirm about company detail and lease contract.
Personal Lease Contract
Personal lease contract requires guarantor. Guarantor should be Japanese who lives domestic has a stable income. If non-Japanese, he/she needs to have permanent residence in general. Prior to sign the contract, submitted certifications and documentations will be concerning both the renter and the guarantor.
Please note that your guarantor must also understand Japanese.
Note
<Payment>
Deposit
All rent property in Japan requires a deposit, which is usually refundable. In most cases, deposit is reduced by the cost of restoring the property after the tenant left, including cleaning and repair of any damage. Please read the contract carefully.
Key Money
A traditional practice, sometimes called "thank you money," key money is not refundable.
Agent's Fee
One month rent with consumption tax is paid to the real estate agent as a commission.
Maintenance Fee
Maintenance fee to upkeep the facility sometimes included in the monthly rent.
Ordinary Terms and Conditions
A two-year lease period, generally renewable every two years.
Lease agreement can generally terminate with one or two month's advance notice.
Renewal Fee
Renewing an expiring lease contract may require payment of renewal fee, generally equivalent to one month's rent, in addition to regular monthly payments.
Insurance
You will need to apply for fire insurance.
It sometimes requires to purchase coverage recommended by the landlord.
Contract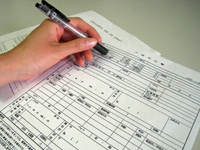 Once application has accepted, next step of rental process is to check the contract. After all parties agreed, original contract will be drawn up. The original is signed by you or your company and landlord. All related fees must be paid prior to the lease start date.
Prior to Moving In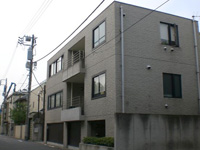 The last step of rental process, you will need to make arrangements for all utilities prior to moving in. We will be happy to support your setup. See life style page for your best living.